Age Certification
By entering this website, you agree that you're of legal age in your state to purchase electronic cigarette products.
how e-cigs work
Ready for simplicity and satisfaction? You're in the right spot!
Curious about how e-cigarettes work? Look no further! Our comprehensive collection of vape instructions and resources will provide you with a clear understanding of how e-cigs work.
E-cigarettes, also known as e-cigs or electronic cigarettes, are battery-powered devices that simulate the experience of smoking. When you take a puff, the device activates an atomizer that heats the e-liquid, turning it into vapor. This vapor is then inhaled, delivering the desired nicotine or flavor.
Our vape instructions cover everything from assembling and using your e-cigarette to refilling e-liquid and maintaining your device. We strive to make the transition to e-cigarettes seamless, ensuring that you have all the knowledge and guidance you need to enjoy a satisfying vaping experience.
At South Beach Smoke, we believe in empowering our customers with the information they need to make informed decisions. Explore our vape instructions and discover the wonders of e-cigarettes today.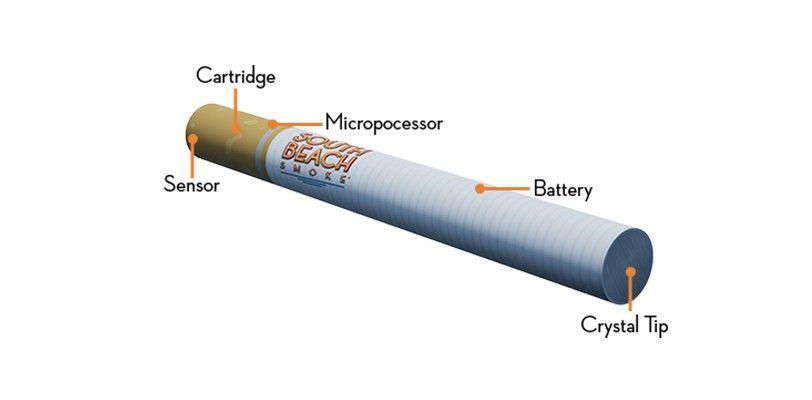 STARTER KIT USER MANUAL
CONGRATULATIONS ON CHOOSING SOUTH BEACH SMOKE!
Thank you for purchasing the South Beach Smoke E-Cigarette Starter Kit. In order to use your E-Cigarette correctly, efficiently, and safely, please read the user manual before use.
Manufactured for and Distributed by South Beach Holdings LLC, 5201 Interchange Way, Louisville, KY 40229. ©South Beach Holdings LLC
YOU MUST BE 21+ TO USE ANY SOUTH BEACH SMOKE PRODUCT
WARNING: This product contains nicotine. Nicotine is an addictive chemical. South Beach Smoke products are intended for adult use only and are not for sale to minors. South Beach Smoke E-Cigarette cartridges are intended ONLY for use with South Beach Smoke E-Cigarette batteries. E-Cigarette cartridge products contain nicotine, which can be poisonous.
DO NOT CRUSH OR OPEN CARTRIDGE. Avoid contact with skin and eyes. Flush thoroughly in the event of skin or eye contact. DO NOT DRINK LIQUID. KEEP OUT OF REACH OF CHILDREN AND PETS. CHOKING HAZARD. In case of accidental ingestion, seek medical help.
WARNING: TO AVOID RISK OF INJURY OR PROPERTY DAMAGE, USE ONLY AN APPROVED, UNDAMAGED CHARGING DEVICE OF PROPER AMPERAGE. NEVER USE A QUICK CHARGER. DO NOT OPEN, CRUSH, OR DISASSEMBLE BATTERY. KEEP AWAY FROM FIRE OR FLAME. DO NOT STORE IN YOUR POCKET. DO NOT STORE IN HEAT OR FREEZING COLD TEMPERATURES. NEVER USE A DAMAGED BATTERY. DISCARD PROPERLY WHEN NO LONGER USABLE.
SOUTH BEACH SMOKE E-CIGARETTE STARTER KIT COMPONENTS
(1) USER MANUAL
(1) WALL CHARGER ADAPTER
(1) USB CHARGER
(2) BATTERIES
*Disposable Atomizer Cartridges Sold Separately
INTRODUCTION: THE SOUTH BEACH SMOKE E-CIGARETTE
The South Beach Smoke E-Cigarette is an electronic atomizing device designed exclusively to South Beach Smoke quality standards. South Beach Smoke E-Cigarette flavor cartridges contain liquid nicotine and are available in a variety of flavors and nicotine strengths.
The main body of the South Beach Smoke E-Cigarette is referred to as the "battery" throughout this User Manual. The product utilizes a lithium-ion battery that powers an attached disposable atomizer cartridge. Located at the tip of your battery is a LED indicator that will illuminate to signal various functions of your E-Cigarette.
The LED will illuminate steady when in use or on charge, and will flash to indicate low battery. Drawing air from the E-Cigarette will automatically trigger the internal pressure switch and activate the atomization process. Your first few draws will warm the atomizer (referred to as priming in this user manual), and optimal vapor is produced on the third and subsequent draws.
THE SOUTH BEACH SMOKE DISPOSABLE ATOMIZER CARTRIDGES (FLAVOR CARTRIDGES)
South Beach Smoke disposable cartridges (sold separately) contain a flavored liquid nicotine solution and are available in various nicotine strengths, including: 6 mg/ml, 12 mg/ml, 16 mg/ml and 24 mg/ml.
THE E-CIGARETTE CHARGERS & ADAPTERS
Your South Beach Smoke E-Cigarette Starter Kit comes with a USB Charger and Wall Charger Adapter.
This USB Charger is designed to be only plugged into a compatible power adapter of proper amperage. Never use a quick charger.
Only use with charging devices compatible with South Beach Smoke threaded batteries.
South Beach Smoke batteries that have been damaged through the use of incompatible chargers are not covered by our warranty or replacement policy. www.southbeachsmoke.com/warranty.html
HOW TO CHARGE YOUR BATTERY
Screw your South Beach Smoke battery into the threaded opening of the USB Charger.
Plug the USB Charger into the Wall Charger Adapter or USB hub of proper amperage.
The indicator LEDs on both the USB Charger and the battery will illuminate to indicate it's charging the battery.
When a battery is fully charged (usually 2-4 hours), the LED on the battery will turn off indicating it's fully charged.
HOW TO REPLACE YOUR E·CIGARETTE CARTRIDGE
Remove a South Beach Smoke E-Cigarette flavor cartridge from the blister pack and remove any rubber caps or packaging.
South Beach Smoke batteries are packaged partially charged and are ready to use.
Screw the cartridge securely onto the battery. Your South Beach Smoke E-Cigarette will now be in stand-by mode and will power on when air is drawn.
As you draw air from the E-Cigarette, the atomization process will be triggered and the LED indicator at the tip of the South Beach Smoke E-Cigarette will illuminate.
After attaching new cartridges to the battery, you should prime them by taking at least two long, deep draws to ensure the cartridge produces optimal vapor with subsequent draws.
When you stop drawing air, atomization will cease and the South Beach Smoke E-Cigarette will return to stand-by mode. E-Cigarette will power back on when air is drawn.
E-CIGARETTE TROUBLESHOOTING GUIDE
ISSUE:
LED indicator does not illuminate.
No vapor is produced when drawing on E-Cigarette.
SOLUTION
Ensure rubber caps are removed from the cartridge.
Verify the cartridge is screwed into the battery properly.
Ensure the battery is charged.
ISSUE:
LED indicator flashes continuously (usually 15 times).
SOLUTION
ISSUE:
Battery is fully charged but does not produce vapor after a new cartridge has been attached.
LED illuminates, but little or no vapor is produced.
After extended E-Cigarette use, flavor is reduced.
SOLUTION
ISSUE:
E-Liquid leaks from the cartridge when attaching to battery.
SOLUTION
Hold the battery and the cartridge horizontally when attaching to the battery.
ISSUE:
After extended use and multiple charges, LED does not illuminate when charging and/or battery life is shortened.
SOLUTION
The recharge life of the battery has expired and should be recycled or disposed of properly.
Purchase new battery.
ISSUE:
E-Cigarette is new; LED does not illuminate during charging or while in use.
SOLUTION
Although uncommon, defects are possible. After trying multiple cartridges and charging options, if your E-Cigarette still does not work, please contact customer service for technical assistance.
PRODUCT SPECIFICATIONS:
Cartridge e-liquid volume: 0.85ml - 0.95ml
Coil resistance: 2.6~3.2 ohm
Coil power range: 2.5W - 6W
Chip type: CT-811 Q
Charging: Voltage 5±0.25V
Battery power: Lithium-ion battery, 3. 7V /280mAh Battery size: 8.0mm diameter x 57mm length
Battery threading: 8080-2
Size: 9.2mm diameter x 120.2mm length
Cartridge weight: 4.0±0.4 grams (without e-liquid) Battery weight: 14.1 ±1.9 grams
Auto-off safety: Output stops after 10 seconds to prevent overheating