South Beach Smoke – The Coolest Electronic Cigarettes on the Market Today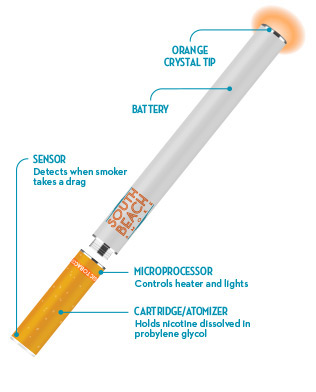 If you've researched electronic cigarettes to much extent, you've probably noticed the vast number of brands out there. But not all smokeless cig brands are created equal – many lower quality brands fail to deliver a satisfying experience.
Also, many electronic cigarette brands market themselves as an alternative to traditional cigarettes. Meaning, they're for long-time smokers looking for a less harmful alternative.
As the millennial generation comes to age, they're well aware of the dangerous posed by traditional cigarettes. Not only do they pose dangerous health consequences, they also present social problems for today's college-aged population. Gone are the days of smoking looking cool – today, you're more likely to get a scorned look from that pretty blonde rather than her phone number!!
"I'm not a smoker, but I'd like to enjoy a smoke-like experience without resorting to costly, smelly and dangerous cigarettes…" is a common statement we hear.
South Beach Smoke electronic cigarettes deliver a satisfying nicotine/smoking experience without drawing the ire of your fellow millennials
Not only are South Beach electronic cigarettes more acceptable to today's health conscious youth, they're also very durable and available in a variety of flavors. If you enjoy chocolate, you're sure to love this delectable flavor of vapor. If you've tried traditional cigarettes and prefer to mimic the taste of Marlboro or American Spirit, our Tobacco, Tobacco Blue and Golden Tobacco flavors are sure to delight your taste buds.
Beyond the wide choices of flavors, the South Beach electric cigarette is also constructed using the most durable components available today. The high capacity model of our SuperMax™ Deluxe Battery for example can last up to 600 puffs!!
So if you're out partying with friends, you can vape all night and not have to worry about having enough "juice" to power your device .
The benefits of South Beach don't stop there…
A built-in atomizer also reduces the number of parts you need to keep up with. When your cartridge runs out of liquid and can no longer deliver the cool vapor you're looking for, simply replace it with a new one.
Exclusive VaporFlo™ technology provides a seamless experience. Simply draw like you would with a traditional cigarette…
Avoid cumbersome smoking restrictions on campus and elsewhere since you're exhaling vapor that evaporates almost immediately.
Accessories like car chargers, USB chargers, Personal Charging Cases (PCC), and universal carrying cases means you can enjoy your electric cigarette both at your apartment or on your way to class and work
Enjoy a 1-year warranty and 30-day money back guarantee
Of course, there are other benefits you could see if you decide to buy an electronic cigarette from South Beach. We invite you to learn more by browsing around our blog and knowledge center. And if you're ready to buy, check out our broad selection of starter kits. But if you're not ready to commit to a full starter kit, our disposable smokeless cig can allow you to experience the richness of vapor smoking without the commitment of a full kit.