Age Certification
By entering this website, you agree that you're of legal age in your state to purchase electronic cigarette products.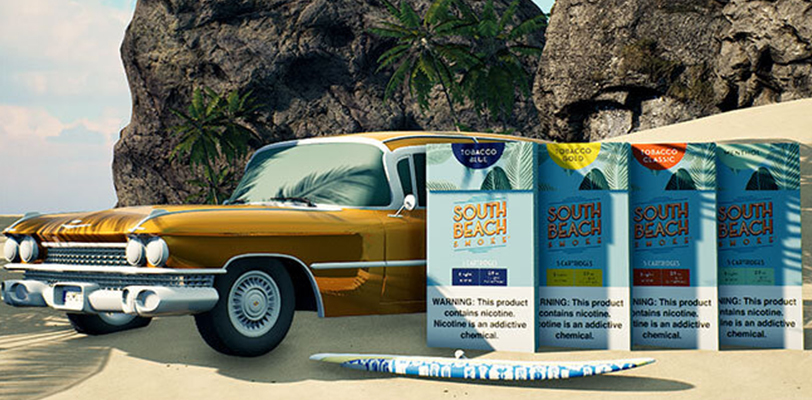 Take an item off your to-do list, while saving at the same time, with South Beach Smoke's Subscriber Savings Benefits! Like waves rolling on to the surf, our Subscriber Savings Benefits allow you to set up regular deliveries of your favorite South Beach Smoke products – on your schedule and on your terms! When you sign up, you'll receive:
20% OFF all South Beach Smoke Cartridges!

A custom-tailored and consistent delivery schedule!

No commitments plus easy, fast, and free any-time cancellation!
As regular as the tide, you'll receive the products you want – when you want them! Tastes change; and with our Subscriber Savings Benefits you can quickly and easily update, modify, or cancel your current subscriptions at any time! Ready?!
Vape Subscription Program
Explore our convenient vape juice subscription service, designed to enhance your vaping journey. With our vape subscription, you can enjoy a steady supply of your favorite vape juices without the hassle of manually reordering. Simply choose your preferred flavors, nicotine levels, and delivery frequency, and we'll take care of the rest.
Our vape subscription, also known as vape auto-delivery, ensures you never run out of your go-to vape juices. It's the ultimate convenience for vapers who want a seamless and consistent vaping experience. Plus, as a subscriber, you'll gain exclusive access to special promotions and discounts, further enhancing your vaping pleasure.
Experience the convenience and savings of our vape juice subscription service today. Sign up and let South Beach Smoke take care of your vape juice needs, so you can focus on enjoying your vaping journey to the fullest.
Frequently Asked Questions
What are South Beach Smoke's Subscriber Savings Benefits?
Vaping is great, but having to remember to order the cartridges you need -- not so much. We created our Subscriber Savings Benefits to make sure you get the awesome South Beach Smoke cartridges you want, when you want them, and with no reminders, hassles, or other annoyances! In just a couple simple steps, you can enjoy having convenient automatic deliveries shipped directly to you! Simply select the items you want and the frequency with which you'd like to receive them and we'll automatically ship them to you on your schedule! Set individual delivery preferences for each item, then just kick back and watch your favorite products roll in! Adjust the quantity, type, and delivery schedule to suit your changing needs -- and if you ever decide that you no longer want to participate, cancel anytime! No contracts, no commitments -- just simple South Beach Smoke convenience!
Why sign up?
Incredible convenience, peace of mind, stellar savings, and of course -- never running out of the premium South Beach Smoke Cartridges you rely on! Save time by no longer needing to manually place an order while saving 20% on your enrolled cartridges! Save money and time while making sure you never run out of your favorite South Beach Smoke Cartridges!!
Which products are eligible for Subscriber Savings Benefits?
Subscriber Savings Benefits were designed to save you money and make certain that you never run out of the South Beach Smoke Cartridges you enjoy. Currently, our Subscriber Savings Benefits are only available for the full range of premium South Beach Smoke Cartridges. For the rest of our products, simply place your order as usual knowing that your cartridges will continue to arrive on your selected schedule!
Can I change my Subscriber Savings Benefits order or schedule? What if I want to cancel?
You're the captain of this ship! Set your schedule, then cancel, pause, or edit any part of your order or schedule at any time! We'll never charge to join our Subscriber Savings Benefits and there will never be any membership or hidden fees of any kind! You chart the course and keep all the treasure when you enroll in South Beach Smoke's Subscriber Savings Benefits!
What about shipping?
South Beach Smoke offers FREE SHIPPING on all orders over $65 -- and that includes Subscriber Savings Benefits orders! With lightning-quick processing, fast turnaround, and usually same-day shipping; we make sure that you get the products you want on time!
Will I be charged sales tax?
Whether or not a sales tax is charged depends on the state in which you reside. Please contact our Customer Service Department for more information.
I live outside of the United States. Can I sign up for Subscriber Savings Benefits?
Unfortunately, due to circumstances beyond our control, we are currently unable to provide international shipping services. Sign up for our email newsletter to stay informed about changes to our international shipping policy.
Do you allow returns?
Sure! Surf Club Points can be used on any orders – and even on sale items! Unfortunately, Surf Club Points may not be used on site-wide sales or purchases with certain promotions.
*Make sure you create an account and are logged in when shopping to be eligible for points.