Age Certification
By entering this website, you agree that you're of legal age in your state to purchase electronic cigarette products.

WHAT IS AN E-CIGARETTE?
An E-Cigarette is a type of small, portable nicotine vaporizer. Instead of using combustion to create smoke like a traditional cigarette, E-Cigarettes use a heating coil to vaporize a fluid containing nicotine and flavors.
E-Cigarettes are a type of vaporizer. While vaping has been around since the early 2000's it didn't experience a surge in mainstream popularity until around 2010 - which is when South Beach Smoke was founded. Often, nicotine vaporizers are big, clunky tools that require specialized knowledge to operate. E- Cigarettes address these issues as a streamlined version of vaporizers that are inexpensive and easy to use.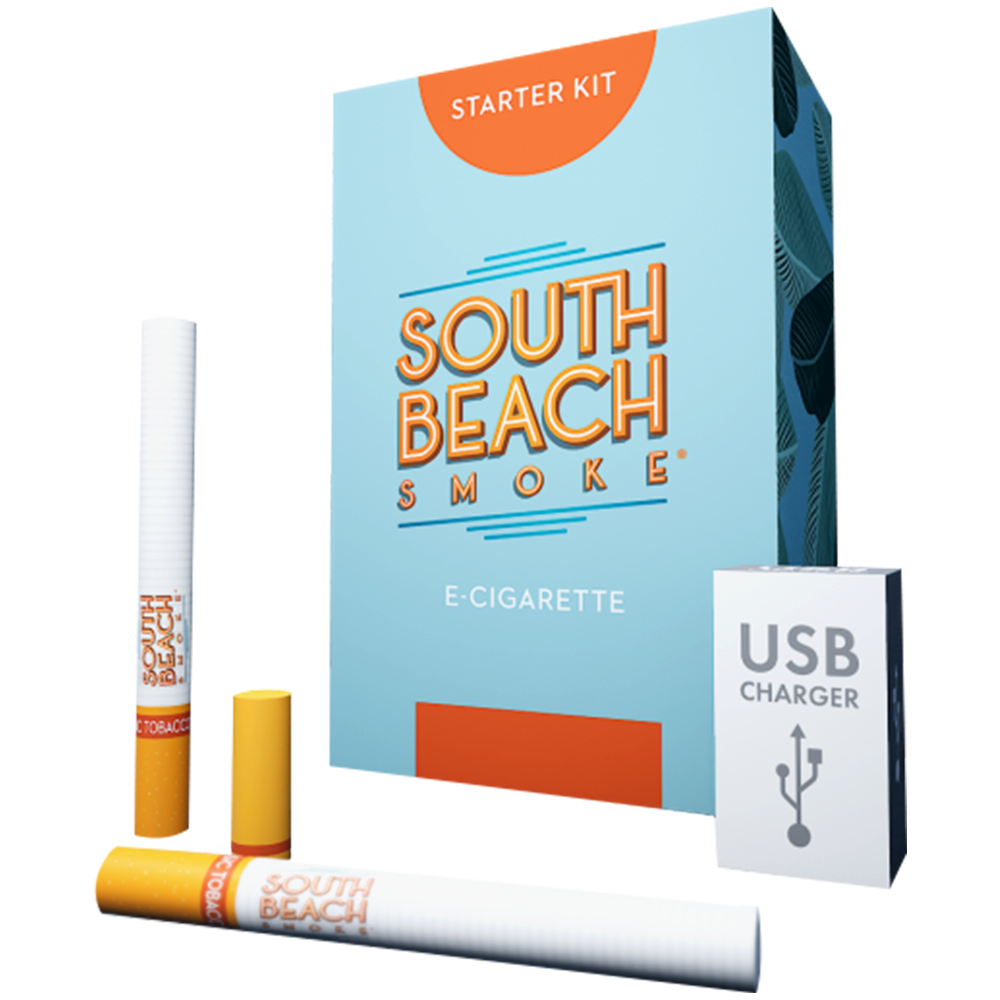 ARE E-CIGARETTES AN ALTERNATIVE TO SMOKING CIGARETTES?
E-Cigarettes can be an alternative to traditonal cigarettes, but it is not safer or better for you than other alternatives. All nicotine delivery options carry a degree of health risk. Nicotine is an addictive chemical.
DO ALL E-CIGARTETTE HAVE THE SAME AMOUNT OF NICOTINE?
While E-Cigarettes usually do contain nicotine, there's no rule saying that they have to have the same levels. At South Beach Smoke, we offer cartridgges varying in nicotine content from 6 milligrams to 24 milligrams. That way, users can customize experience to best meets their needs
HOW DOES AN E-CIGARETTE WORK?
E-Cigarette use a metal coil to conduct heat, which in turn changes liquid nicotine into a mist or vapor for the user to inhale.
Vaping can take many forms. We designed our E-Cigarettes as simple two-piece modular systems for maximum ease and usability. A high-capacity battery generates power to heat a coil in the lower half of our E-Cigarettes. The top half, containing the mouthpiece, is a disposable cartridge that contains the liquid nicotine.
First, screw the cartridge securely onto the battery. Your E-Cigarette will now be in stand-by mode and will power on when air is drawn. As you draw air into the E-Cigarette, the atomization process will be triggered and the LED indicator at the tip of the E-Cigarette will illuminate. You should then "prime" the cartridge by taking two deep draws to ensure the cartridge produces optimal vapor with subsequent draws. When you stop drawing air, atomization will cease and the E-Cigarette will return to stand-by mode. The E-Cigarette will power back on when air is again drawn.
SOUTH BEACH SMOKE CARTRIDGES FLAVORS
Life a ray of South Beach sunshine; when satisfaction, convenience, and flavor combine - as they do in each and every one of South Beach Smoke's premium e-cig cartridges, you might start to feel warm and fuzzy all over! Relax into the supreme e-cig experience that in South BEach Smoke!
We offer a total of four carefully curated flavor profiles: Tobacco Gold, Tobacco Blue, Classic Tobacco, and Menthol - and while they each have their own unique character, they're also all equally capable of delivering the extreme convenience and superior satisfaction that the hallmarks of life on the Beach!
If you already have favorite, great! if not, you're about to! Don't wait another day to experience the simplicity and profound satisfaction of our incredible South Beach SMoke cartridges!
P.S - Don't forget your sunscreen!